Vaccinology Course Launched
Submitted by hoketch on Mon, 2016-06-27 09:42
Location / Venue:
Department of Medical Microbiology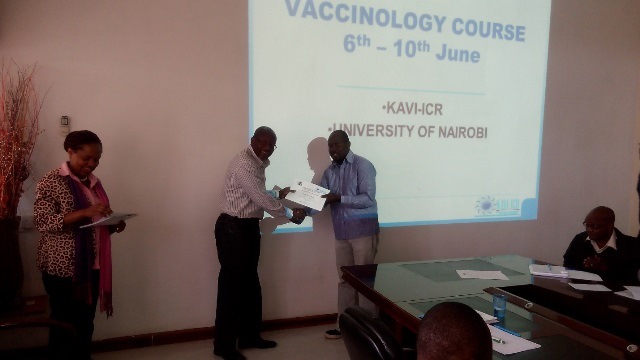 Prof. Anzala awarding a certificate of completion to a course participant
This month, KAVI-ICR launched a Vaccinology course that was offered to key stakeholders free of charge. The course was conducted from 6th to 10th June, 2016 at KAVI Institute of clinical Research. Participants were drawn from various institutions including universities, county health departments, pharmaceutical industry and health organizations. The course highlighted key vaccine concepts in design, clinical trials, vaccine delivery, uptake, financing, cost-effectiveness. It also delved into controversies around vaccines giving the participants a comprehensive picture. The course was facilitated by faculty from KAVI-ICR, Department of Medical Microbiology, Ministry of Health, GAVI Alliance and the Kenya National Immunization Technical Advisory Group (KENITAG).
The course will be offered to different stakeholders such as county health managers and faith-based organizations in the near future.
Click Here to view a picture gallery of the event